Up to 75% lower energy bills
Energy for your building: from the ground, water or air
The majority of the heat produced by a heat pump is taken from our surroundings. The ground, air and water harnesses solar energy, charged through sunlight and is therefore freely available. The operating costs of the heat pump are dependent only on electricity prices.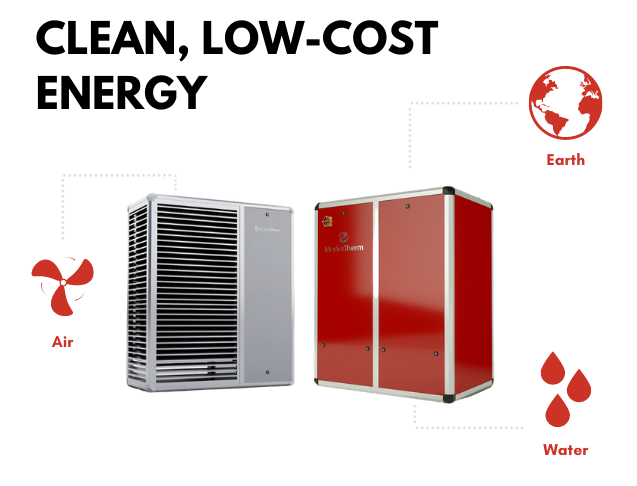 Cooling mode
MasterTherm heat pumps have the capability to cool buildings during summer months (additional module required – please contact your installer). Even when in cooling mode, hot water can be produced.
Financial Support
Grant payments available through the UK Governments Domestic and Non-Domestic Renewable Heat Incentive (terms and conditions apply, see Ofgem).
Live in comfort thanks to MasterTherm Online Control
Unattended heating or cooling: requiring little effort or time
Heat pumps are a fully automatic applicance, enabling you to set your preferred temperature and then operating as effciently as possible to achieve it. Should you ever want to see how your heat pump is performing, MasterTherm heat pumps are now supplied with internet connectivity. When connected you'll have full control and visibility of your heat pump though our apps for iOS or Android or online through our Web service.
The warmth of your home and full control at your fingertips.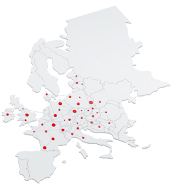 Our internet service is also used for online monitoring by our Technical team so that they can run remote diagnostics.
Environmentally friendly
Heat pumps are one of the cleanest ways of heating
Heat pumps are one of the most efficient forms of heating for your building. For every kWh, approximately 20-30% is from a non-renewable source. The remaining 70-80% is harnessed unobtrusively from our surroundings.
Efficiency (utilisation of the input energy) heating sources:
| | |
| --- | --- |
| Classic wood-fired boiler | 0,75 |
| Electric heaters | 0,98 |
| Gas condensing boiler | 1,02 |
| Ground water heat pump | 4,7 |
Most of the energy for heating, cooling or hot water is obtained by using a heat pump directly from our surroundings.
Compared to the conventional heating methods, heat pumps do not give off harmful/toxic fumes (CO2) and can significantly reduce your carbon footprint.
Pioneers in heat pump technology

Ultra quiet
New style DC fan ensures minimal noise disruption.

7 year warranty
The robust and reliable design allows for an industry leading 7 year warranty.

Maximum comfort
Internet module allows for remote control of all units from via iOS, Android or any other web enabled device.


100% Czech
Product development and production.

Inverter technology
Inverter drive available 22kW with electronic expansion valve increasing appliance lifespan.

Reduced Fuel Bills
Thanks to Inverter technology, MasterTherm heat pumps can offer additional savings compared to alternative heat pumps on the UK market.